Out of every space at home, your bedroom is without a doubt the most personal. It' where you recharge, reflect on the day, and even spend time reading a book, so it only makes sense for it to feature the right color palette and furnishing. And let's not forget that it also has to showcase your design style accurately and complement the overall aesthetic that's reflected in other areas of your home. While pulling this all off can be quite a challenge, it's not impossible whether you live for a minimalist set up or need punchy colors in your life, this collection of 10 styles bedroom images is chock full of inspiration, innovative tips and decorating tricks. 
WALL_TO_WALL PATTERN
 A pattern can seem chaotic when used in abundance, but a neutral color way gives it a more subtle and refined appearance. By using a floral wallpaper with a soothing sage floor covering to add interest and elegance in this bedroom. 
HANGING BEDSIDE LAMP
 A master bedroom with two hanging pendant lamps in this design. While very chic they make a quiet statement and don't distract from the graphic art posited above the bed. The added perk of not using table lamps is the extra surface space on the nightstands.
OUTDOOR DETAILS
In this bedroom large glass door leading to a hammocked balcony al fresco, but natural materials-like the traffic- and- seashell pendant and a woven room divider behind the headboard-lend an elevated, earthly feel.
WORKHORSE NIGHTSTAND
It might seem counterintuitive, but in a bedroom with relatively small square footage sizing up the bedside tables can make the most of every inch. In this bedroom, a west elm dresser is repurposed as a roomy nightstand to house bouquets, books, and beauty products.
DIY ART
 Chalkboard paint has found its place in kitchens, playrooms and children's bedrooms, but it's an innovative and involving element for adult spaces, too. In this bedroom a chalkboard doubles as a headboard and a message space for hosts to leave welcome missives to guests.
PROPORTIONAL PIECES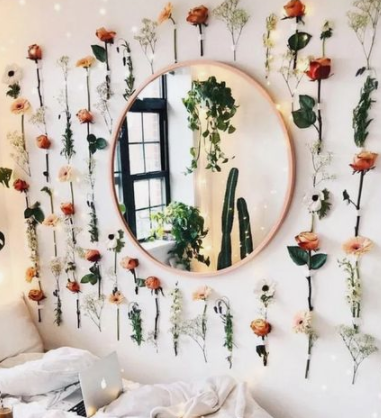 A spacious bedroom is a dream, but outfitting it with accents that speak to the scale is the key-lest it feels like a gymnasium, not a haven. In this bedroom, an oversized pendant and jumbo mirror feel right at home in an airy, open space.
SWAP IN A DAYBED
create the illusion of more space in a tiny guest room by opting for a day bed instead of a large bed frame.
A COOLER CANOPY
 Canopies of the frilly and flouncy variety are best suited for the childhood bedroom of your dreams. But in luxe materials here, a mirrored bed frames upholstered in Romo velvet – the accent feels all grown-up.
ECLECTIC ELEMENTS
   A bedroom is the most personal space in your house, which makes it perfects for expressing seemingly disparate facets of your unique sensibility.
MIDCENTURY MOBILE
    Installing a mobile as a sculptural piece centered above a bed adds quirk and excitement to an artfully composed room.