Here Is a Step by Step Guide to Cook Paneer Dum Biryani
Biryani is everyone's favorite dish. Mostly, we made biryani with meat. But people also like different biryani like vegetarian biryani, paneer biryani.
Here I share my most favorite biryani that is " paneer dum biryani". Usually, we made paneer biryani with meat and vegetables, but my recipe is a little bit different and unique. If u are a paneer lover then definitely you love it. This recipe of paneer biryani is not so spicy.
How to make paneer biryani
Ingredients
1 kg of rice

1 piece cinnamon

1- 2 curry leaves

2 cloves

2 green cardamoms

1 teaspoon cumin seeds

2 medium onions

Half cup oil

Half cup milk

Saffron
Ingredients for paneer marination
1 cup fresh full cream yogurt

1 teaspoon garlic paste

1 teaspoon ginger paste

½ teaspoon coriander leaves

½ teaspoon mint

¼ teaspoon red chili powder

¼ teaspoon garam masala powder

¼ teaspoon turmeric powder

¼ teaspoon cumin seeds

¼ teaspoon coriander powder

1 teaspoon lime juice

Salt to taste

Paneer ( cut in cubes)
Ingredients for garnish
Chopped mint leaves
Chopped coriander leaves
Sliced lemon pieces
Method
We share recipe in steps that you would easily manage it.
Step 1
Washout basmati rice with water very well. After rinse water should be clear. Rice must be soaked a minimum of 30 minutes.
Step 2
While the rice is soaking, prepared the biryani ingredients. Heated ½ cup oil in a pan and then add 2 medium( finely sliced).
Fry the onions until they turn golden brown, a flame would below.
When onions become golden brown then remove them from flame and place on kitchen towel paper. These fried onions are known as " Barista". Keep aside oil which is left, we will use them on layering.
Tip
       If u want onions will be brown quickly then add 1 pinch of salt in it.
Step 3
Take warmed milk of ½ cup and add 1tsp saffron. Mix it and keep aside.
Hold the bowl add 1 cup of fresh full-fat yogurt and beat it with a whisk until smooth.
In yogurt add 1 tsp garlic paste, 1 tsp ginger paste, 1 tsp coriander leaves, 1 tsp mint leaves, and mix them well.
Now add spices in it ¼ tsp red chili, ¼ tsp garam masala powder, ¼ tsp turmeric powder, ¼ tsp coriander powder, 1tsp cumin seeds, 1 tsp lemon juice, and salt to taste. Mix them.
 Now add the main Ingredient paneer. Cut paneer in cubes add these cubes in yogurt and spices mixture also add half of the fried onions. Mix them gently.
Keep the marinated paneer aside for 30 minutes. Best is if u keep it in the fridge.
Step 4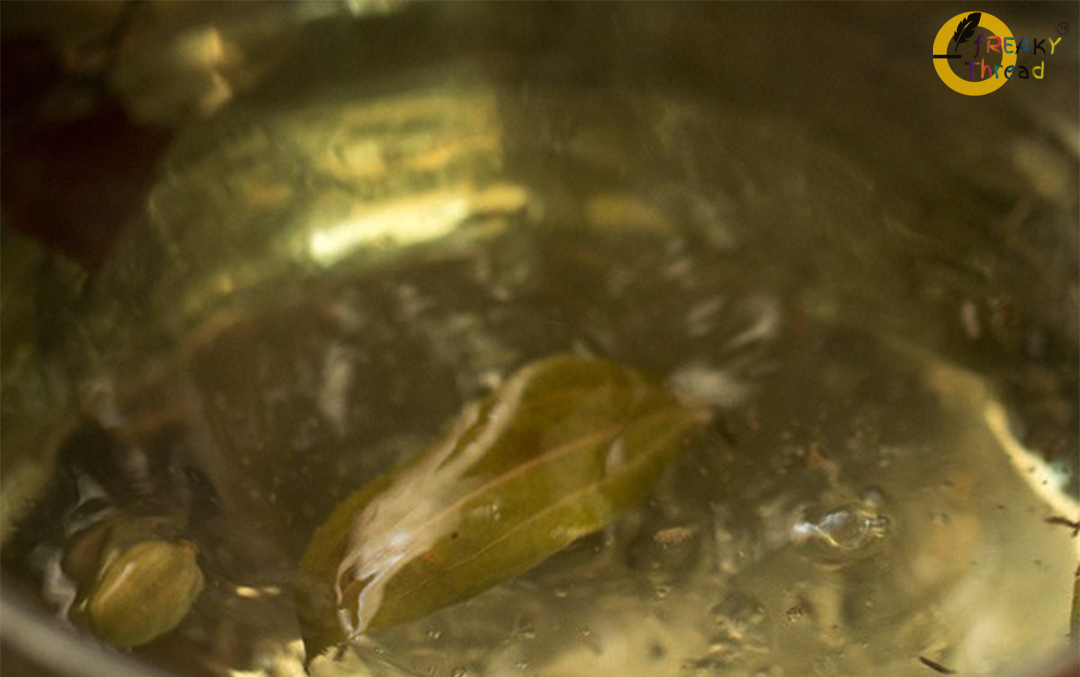 Took water in a pot for bowling rice. And add whole spices, 1 piece of cinnamon, 1 tsp of cumin seeds, 2 green cardamoms, 1 tsp salt, 2 to 3 curry leaves.
When water is boiling add soaked rice in it.
Cooked the rice on high flame. Rice has not to be cooked fully because if we boiled them 100 % then they will be saggy after dum.
Now drained them and leave them for cool.
Step 5
     

      Layering
Add oil in a pan which we keep aside after onions fried.
Add marinated paneer cubes in a pot and layer it in a pot.
Now add rice and also layer it fully in a pot on the paneer layer.
If you want more layers then repeat this process.
 Add the half fried onions which we safe for layering
Add chopped coriander and mint leaves as garnish.
Add saffron milk all over the rice.
Step6
       

   Dum
Cover the pot with a moist cloth.
Placed the lid on the pan.
Place tava on pan's lid.
Dum the biryani for 15 to 20 minutes on low flame.
After dum your delicious paneer dum biryani is ready.
Served it with the raita and vegetable salad.