Guide to Cook Sweet Rice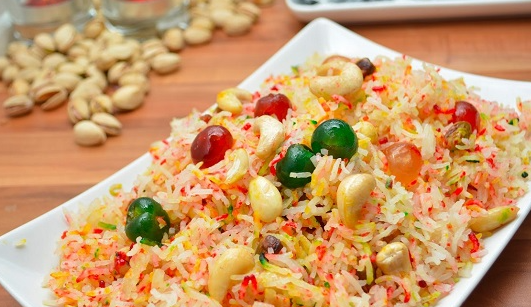 Sweet rice is a Pakistani traditional sweet dish. It is one of the most famous dish in all over Pakistan. It is also an important part of a meal in big gatherings, marriages, and also in the other functions. These rice are mainly two types. The main difference between both types is coloring. One type of rice is completely yellow-colored that is known as zarda. And the second type of sweet rice is known as "chaar bagh" because of its different colors. These rice are served in the gatherings as a sweet dish. Commonly it is served with Pulao. And everyone likes it, because of its rich taste.
Here I share the recipe of chaar bagh.
Chaar Bagh Rice
Ingredients
Rice 1 kg
Sugar 1 kg
Desi ghee ½ cup
Cardamom 3 to 5
Milk 1/3 cup
Food color
Almonds
Method to cook
To cook sweet rice, first of all, take a deep pan. Fill it with water and put it on the stove on high flame. Add some oil and 1tbsp salt in the water.
Let the water become a boil. When it starts boiling add soaked rice into the water. When rice is done ¾, stain the rice.
Take another deep pan put it on the stove on the low flame, add desi ghee (you should also use cooking oil or butter ) when it starts melting add cardamom and after a while add sugar in it and stir continuously and make sure that the sugar would not stick with the bottom of the pan. When the sugar turns into light pink color add milk, when sugar becomes melt add boiled stain rice in it.
Mix the rice gently and when the rice becomes dry add a few drops of each color in rice, like this:
Add almond, you should also add other dry fruit like raisins, dried coconut or pistachios, etc. And you also add sweets in it.
Cover the lid for a few minutes and become the flame very low..
After 15 minutes remove the lid and wait till steam becomes finish. When there is no steam in the rice, start mixing rice very smoothly from one side. Mix gently one color and then stop mixing. After a while starts mixing from another one. Done this process with every color.
For better results, don't mix all rice. Mix them separately one by one gently so colors are not mixed.
And then dish out the rice and serve.