Oprah Winfrey said,
 "Keep your heels, head, and standards high."
Heels are the style statement for women. Wearing heels in footwear shows how confident and independent are you .sometimes we get confused in types of heels we should buy and wear. Men usually consider all heeled-shoes are just "heels" but there are many types of heels, from 0 to 1″ inche is consider as low heel, from 2 to 3.5 are mid-heels and after 3.5 or 4 all are considered as high heels.
Women love to wear and keep heels in their closet because heels are considered more attractive than flats. Here in this article, we talk about the 8 top trending types of heels women should know.
Wedge Heels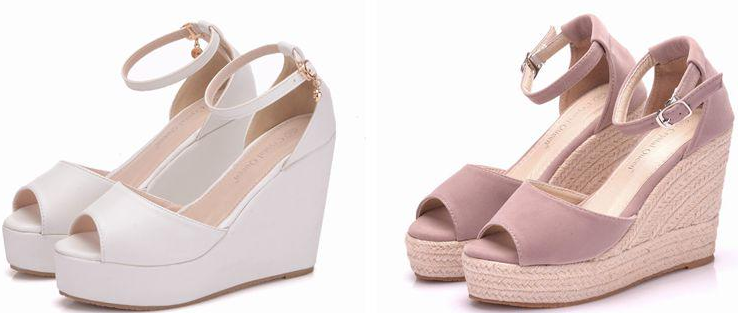 Wedges are ladies' shoes that design in the shape of a wedge, have thick bottoms, or arise directly from the toes to the impact point some portion of the footwear. There are two types of wedge shoes, wedge sandals, and wedge heels.Wedge heels are flush simply like a high heel would be, and there is no partition from the heel to the toe. Wedges sandals are open more comfortable as flats and give the charisma of wearing high heels.
Stilettos
Stilettos are considered as higher and thinner in all high heels. Looks stylish and symbol of feminism.  Stilettos shoe heel starts from 2″ inches and up to 10″ inches. Stilettos also offer platform solely because of its height.
Christian Louboutin said:
"The stiletto is a feminine weapon that men just don't have."    
Platform Heels
Platform heeled shoes in which the toe is additionally raised that makes them more comfortable to walk with high heels and looks fashionable. You can find platform heel short and tall.
Kitten Heels
Kitten heels are not much high as others it's little, cute, and comfortable. The heel range is 1″ to 2″ inches. Kitten heels commonly use by tall women who don't want be looks taller. it good and trendy for a work event.
Block heel
Block heel is like a thick square type heel. Block Heels give more help and all the more even sharing of weight, they will in general be far comfier than your ordinary stilettos. They can run from a low square heel on a level shoe to a chic round and hollow heel, so you're certain to discover a square heel to suit your look.
Slingback heel
Slingback heeled shoes provide a strap that goes around heel and arch of the foot, looks elegant, and gives stability, grip to the foot. The heel is usually more than 2″ inches.
Peep toe heel
Peep-toe heeled shoes are designed "peephole" at the end of the toe. it can be a slingback, trendy pumps or booties it comes to all shape and styles, it looks super trendy when you add nail paint on your nails
Cone Heel
Cone heel looks like an ice-cream cone wider at the top getting narrower when comes to the bottom. This type of heel gives you more support to wear all day.
So, these were fundamentally the various types of heels for women! I am certain you were in love with various types of heels! Which of these heel types do You own?