[vc_row][vc_column][vc_column_text]
Learn How to Make Biryani? Delicious Biryani Recipe
If you are looking to learn how to cook delicious biryani at home, here's the perfect recipe.
There is a very simple way to cook biryani.
Mainly it has 4 steps.
1st making curry
Then semi-cooked rice
Then layering 
And finally Dum.
Special Biryani Recipe 
There are different varieties of biryani like Sindhi biryani, Bombay biryani, Hyderabadi biryani, and many more.
Here I share my special recipe of biryani with home masalas favorite for all age persons because of fewer spices and little amount of oil.
Biryani Ingredients
Chicken                                1 kg
Rice                                      1 kg
Butter                                  Half cup
Salt                                      2 tbs
Red chili powder               1 tbs
Turmeric powder             1 ts
Coriander powder            1 tbs
Cumin powder                  1 tbs
Greens cardamom           3 to 4
Cumin seeds                     1 tbs
Cloves                               4 to 5
Cinnamon sticks             2
Black cardamom             3
Star flower/mace           2
Nutmeg powder             1ts
Garam masala powder   1ts
Tamarind                         7 to 10
Dry plum                          4 to 5
Bay leaves                        3
Onion                               half kg
Tomatoes                        half kg
Garlic paste                    2tbs
Ginger paste                   2tbs
Lemon                             4 to 5
Green chilies                  5
Fresh Coriander leaves
Fresh mint leaves
Yogurt                               half kg
Yellow color                    (as required)
Wait! Not done yet so continue reading how to make delicious biryani.
Recipe Ingredient 
There are four steps of biryani.
Making Curry
Take a pan, put on the stove, and turn on the flame (medium flame). In a pan, add butter and put onion slices into it. When turns into pink add ginger garlic paste and after while add tomatoes and after it adds salt, turmeric powder, red chili powder, and coriander powder after few seconds add little water and cover the lid. After 3 to 5 min remove the lid, saute masala and then add chicken into it when it changes color then add tamarind and dry plum (both must be soaked for half an hour in little water).
After this add cumin powder, green cardamom, cumin seeds, cloves, cinnamon sticks, black cardamom, star flower, nutmeg, and garam masala powder. After adding all of these saute well and add yogurt into it. When it becomes semi-dry and have little gravy, add lemon slices, green chilies and bay leaves and cover the lid. And make sure the flame should be very low.
After 10 min pan removes from the stove.
Boiling Rice
In a pot add water, a little salt, 2 tbs butter, and mint leaves and bring it to boil. Add soaked rice into the boiling water and mix i. When it boils till ¾th done remove from the stove, strain, and set aside.
Layering
Take a large pan and grease with oil (taken from chicken curry) and put 1/4 boiled rice and then add 1/3 chicken curry and do it thrice time and after it adds few pinches of yellow color in the corners of the pan.
Add remaining rice on the top, also add coriander and mint leaves, and cover the lid.
Dum
Place the pot on the stove.
In the start, the flame should be high for a few seconds then become it low and make dum for 15 mins.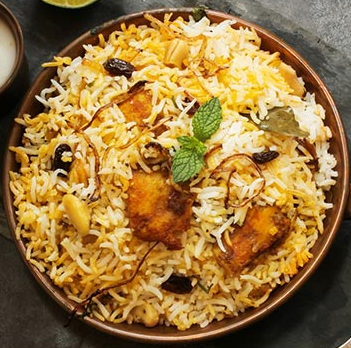 If you like the delicious biryani recipe and learnt how to make biryani at home by reading our article, subscribe our newsletter for more recipes.